Overview
In this era of Internet of Things (IoT), Big Data, and Cloud Computing, the demand for creating intelligent software applications and products is gradually increasing. Software industry has recognized the importance of the new role of the data scientist. Although industry professionals with the traditional computing background are trying to fulfil this role, however, as the data science has become a specialized area, therefore a need is being felt to produce the professionals with the background of the data science specialization.

The program of MS-DS will try to bridge this gap and will produce the high-quality data scientist who will have the necessary theoretical background to understand the data science problems, will be equipped with the necessary tools and techniques to design and develop the solutions for these problems and will have the necessary ethical values to apply this skill set in the appropriately right way.
The key objectives of the proposed MS-DS program are:
To provide the students a well-structured academic program that can fulfil their industry needs.

To provide the students a conducive environment where they can learn the state of the art technologies to become valuable data science professionals.

To enable the students to understand the ethical values while dealing with the private and sensitive data sets.

To enable the students to understand the current issues and challenges in data science and to identify new areas and solutions to enhance the business productivity of the industry.

Shipping
Great stories are for everyone even when only written for just one person. If you try to write with a wide general audience in mind, your story will ring false and be bland. No one will be interested. Write for one person. If it's genuine for the one, it's genuine for the rest.
COURSE FACT
Study Level

Post-Graduate

Study Mode

Full Time
Course Length
2 Years (4 Semesters)
Intake
Spring & Fall
Classes
Evening (5:30Pm to 8:30Pm)
Monday to Friday

Start Date
Feb & Sep

1st Semester Fee
PKR 88,795
Credit Hours
32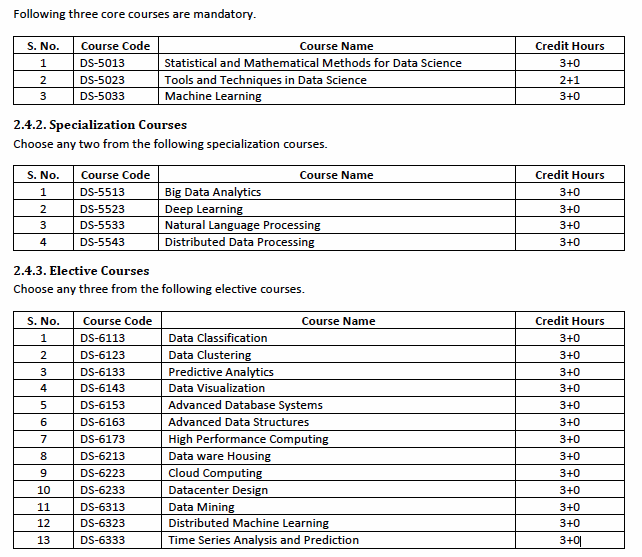 Eligibility

16-years of education in computing/science/engineering discipline preferably with 4 years degree program of BS (Computer Science, Software Engineering, Information Technology, Applied Mathematics, Mathematics, Statistics, Computer Engineering, and Electrical Engineering) or equivalent from HEC recognized university or degree awarding institute.

Seats
40
Selection Criteria

GRE General type test conducted by university at the time of admission
Academic Qualification: 70%
Test/Interview: 30%

Scholarships

Need & Merit Based upto 100%

Offered at

Evacuee Trust Campus

Start Date

Spring (January-February) Fall (July-August)

Application

Apply Online
Riphah Institute of Systems Engineering
Evacuee Trust Complex, Aga Khan Road, Sector F-5/1
Suite # 7, Ground Floor
Islamabad 44000 44000
Pakistan